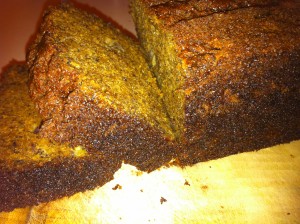 If I have three super ripe bananas, I just can't do anything except make Banana Bread (especially if my mom is in town).
Cream:
1 stick softened butter
½ cup turbinado sugar (or light brown sugar)
Mix in:
2 eggs
1 t vanilla
1 t molasses
2 T maple syrup
Sift together and stir into wet mixture:
½ t salt
1 t baking soda
1 ½ cups flour – I've used half whole wheat pastry and half millet or sorghum. Use what you have.
Mix in:
3 super ripe bananas, mashed
Pour batter in buttered loaf pan and bake in a preheated 350 degree oven for an hour.