Vegan, Gluten-Free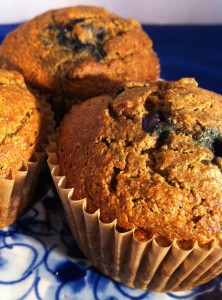 Makes 8- 10
These are the best muffins I've made to date. They are super healthy and super delicious.
Ingredients
1 1/2 cup gluten-free flour blend – 1/2 cup oat flour, 1/2 cup buck wheat, 1/4 cup coconut flour, 1/4 cup tapioca*
1/4 cup palm sugar (any sugar is OK)
1 t baking soda
pinch salt
2 eggs
2 T coconut oil, melted
1/2 cup unsweetened almond milk or rice milk (any milk will work)
1 t vanilla extract
1 ½ T maple syrup
1/2 cup blueberries
1 smashed very ripe banana
* You can substitute almond flour, garbanzo flour, or whatever you have – I mix it up according to what I have on hand. The oat flour I have is not totally gluten-free, so if you are gluten-intolerant, make sure you get GF oat flour or grind GF oats.
Instructions
Preheat oven to 375 degrees F and lightly grease 12 muffin tins or line with paper baking cups.
In a small bowl combine flour blend, brown sugar, baking soda, and salt. Whisk together.
Beat eggs, either by mixer or by hand. Add almond milk, vanilla, coconut oil, and mix. Add dry ingredients and mix until combined.
Add well-smashed banana and mix well.
Fold in 1/4 cup blueberries (fresh or frozen).
Divide batter evenly into the muffin tins: about 2/3 – 3/4 full.
Bake for 25-30 minutes or until the tops are golden brown and a toothpick or knife inserted comes out clean.
Let cool for a few minutes, then serve warm.
Will keep in an airtight container for a couple days. Freeze to keep longer.