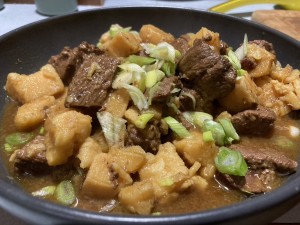 Simple and delicious. The base is bone broth, tamari, ginger with sweet Japanese cooking wine – slow cooked stew beef with Japanese white sweet potatoes. Yum. A hit with the kids.
Ingredients
2 pounds local stew beef (boneless chuck 1 – 1 ½ in chunks)
3 cups bone stock or broth (chicken, turkey, beef)
¼ cup tamari or soy sauce
10 slices of ginger, peeled
Black pepper
Sea salt
1 lemon (Zest goes in with the potatoes. Juice at the end)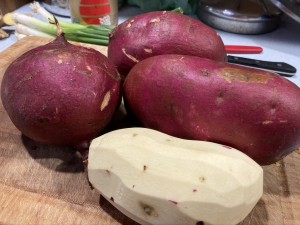 2 pounds Japanese white sweet potatoes, peeled and cut into 1-1 ½ in chunks. Alternatively use regular sweet potatoes or butternut squash.
Scallions (optional)
Salt and pepper the meat. Turn oven on to 350 F.
In large Dutch oven heat 1 T bacon fat, ghee, butter, coconut oil or olive oil.
Sear half of the meat, turning once about 5 minutes per side. Put aside. Sear the other half and put aside.
Add stock to Dutch oven, heat over medium-high, stirring and scraping bottom and sides. Add tamari, mirin, ginger and beef and heat till almost a boil. Cook in oven for 30 minutes, then stir. Check meat every 15 minutes and when it is nearly tender (total time approximately 1-1 ¼ hour) add the white sweet potatoes and cook for 30-45 more minutes, until everything is tender.
Remove from oven, add lemon juice, top with sliced scallions, if using. Enjoy!