I cannot get enough of this stuff and my family loves it, too.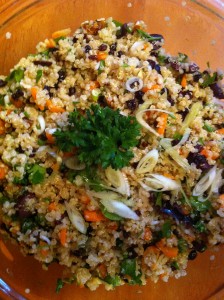 1 cup quinoa
½ cup finely diced or grated carrots
½ cup dried fruit (currants, figs, dates, apricots), chopped
½ cup calamata olives, chopped
¼ cup raw almonds, chopped
¼ cup scallions sliced diagonally cut thinly
1 t cumin
½ t coriander
big handful each of chopped parsley, mint and/or cilantro
1 t sea salt
¼ cup olive oil
juice of one lime or lemon (or more)
Cook quinoa with 2 cups water, bring to boil and turn heat down to low for 20 minutes (just like rice). You can do this in advance or while you prepare the other ingredients. Mix everything together and let sit for 20 minutes or more for flavors to meld.
Variation
Substitute short grain brown rice for quinoa.