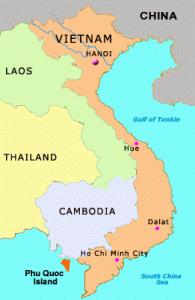 The best fish sauce comes from Phu Cuoc Island, in the Gulf of Thailand on the west side of the very southern part of Vietnam. It is closer to Cambodia than it is to Vietnam and indeed it once was part of Cambodia before the French decided in the 1950's to make it part of Vietnam. The the US imposed a trade embargo for 20 years after the communist take over and Vietnam could not export to the US or Europe. Then there were issues with getting the certificate to ensure proper sanitary conditions. During this time, Thai fish sauce producers supplied most of the fish sauce to the west.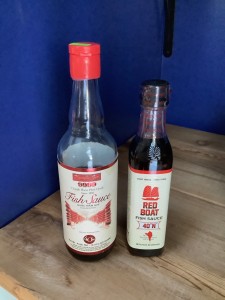 If you look in the fish sauce isle of any Asian market, you will find lots of bottles of fish sauce with PHU CUOC prominently on the label, but when you look at the fine print you will see product of Thailand. Look at the ingredients – does it have MSG? If so, NOT the good stuff.
Back when I used to go to Phu Cuoc, we had to scheme way to get the fish sauce on the plane (it was prohibited) back to the mainland of Vietnam. We finally found a place to buy the good stuff in Ho Chi Minh City, but we still had to smuggle it in our luggage for international flights.
Now you can buy the good stuff in Burlington, Vermont at the Thai Phat Asian Market or City Market.
Fish sauce is fermented and is beneficial to gut bacteria, and it contains some protein, vitamins and minerals. It also contains enzymes that reduce inflammation and boost the immune system, and other enzymes that act like ACE inhibitors to lower blood pressure. There are also amino acids present that are helpful for diabetes because they stimulate insulin production. So feel good about having a little fish sauce any time you want a little salty flavor.
A little goes a long way, so don't over do it with fish sauce, but a small amount regularly is like taking an nutritional supplement! Add no more than 1 teaspoon at a time and check that it isn't getting too salty.
See how to make fish sauce dipping sauce, check out the Nuoc Mam blog post. It is super easy!