Yields about 8-9 muffins.
Recipe adapted from the Realistic Nutritionalist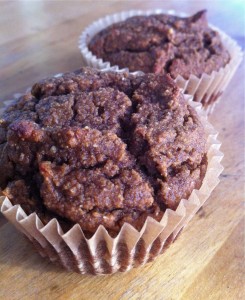 Prep time: 10-20 minutes
Cook time: About 20 – 22 minutes
Ingredients:
1/4 cup coconut flour (or sorghum or garbanzo flour)
1/4 cup buckwheat flour (or rice flour)
1/4 cup tapioca flour (alternatively use 3/4 cup gluten free flour mix in place of first three ingredients)
1 T almond meal
1 t cinnamon
1/2 t ginger
1/4 t nutmeg
1/4 t allspice
1/8 t clove (or 2 t pumpkin pie spice mix in place of spices)
Dash of salt
1 teaspoon baking soda
1/2 cup palm sugar
2 eggs
1/4 cup olive oil
1/4 cup unsweetened applesauce (or 1/2 cup each apple sauce and squash puree)
3/4 cup pumpkin or squash puree*
1 teaspoon vanilla extract
*I bake the pumpkin or squash, scoop it out, let it cool, then use a Foley food mill to get it nice and smooth. This is totally optional. You can use the unsmoothed pumpkin or squash or canned pumpkin puree.
Directions:
Preheat oven to 350 degrees F. Put 9 liners in muffin pan.
Mix flour, salt, spices and baking soda together in a medium bowl. In another bowl, beat or whisk the sugars, oil, applesauce and eggs together. Add in pumpkin puree and whip until fully combined. Stir in vanilla. Carefully pour the dry ingredients into the wet ingredients and mix well. Add additional spice or sugar to taste.
Fill muffin cavities about 3/4 the wall full. Then bake for 20 – 22 minutes, or until golden brown. Let cool slightly and enjoy!