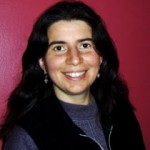 I have had the pleasure of sharing my office with Rebecca for close to a decade. She works at the Vermont Center for Acupuncture & Wellness on North Street in Burlington and from her home office. Rebecca describes her practice:
The practice of oriental medicine is a joy. I offer comprehensive treatments integrating acupuncture, herbs, point warming, cupping, massage and other manual techniques, and compassionate dietary and lifestyle counsel.

The physical, emotional and energy levels of the body are inextricably connected. A problem at any level of the body also manifests in its energy level. Addressing this energy imbalance will help re-establish well being.

I  work with a variety of people and concerns, and I believe that by relieving obstacles (like pain or poor digestion) and reconnecting to their source everyone can experience greater liveliness and joy.

I've been in practice for over ten years, and recently completed a two-year training focusing on deeper diagnosis and the ability to tailor herb formulas to individual needs.