If you have an extra pint of blueberries in your fridge, here's one of my favorite ever cake recipes.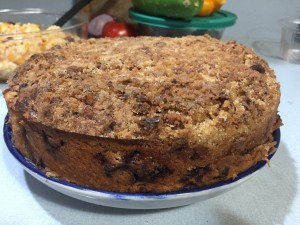 I made the recipe from Smitten Kitchen's Blueberry Crumb Cake but increased the chopped walnuts to 3/4 cup and used an 8 inch pan, which increased the cooking time to over an hour.
It gets better as it sits for a couple days, if it lasts long enough.
I'm bringing half on our camping trip, and the other half is going to my friend Rebecca, as a belated birthday treat.  Here's her half: