2 pounds fresh cucumbers, cut lengthwise into spears (if the cucumbers are big and has big seeds, you can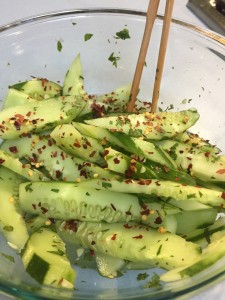 cut out some of the seeds)
¼ cup white wine vinegar or unseasoned rice vinegar
1 t sugar
¾ t crushed red pepper flakes
2 t sea salt, plus more
2 T chopped dill or other herbs (parsley, cilantro, basil – whatever you have/like)
2 T fresh lemon juice
Toss cucumbers in a large bowl with vinegar, sugar, red pepper flakes and 2 t salt. Chill at least 1 hour and up to 6 hours. Rotate once or twice during that time.
Just before serving, add herbs and lemon juice and toss to combine. Taste and season with more salt if needed.
Note: This recipe is not very spicy. It is so quick and easy, and it is nice to be able to make it a couple hours in advance. If you want, use a big mason jar, lay it on its side and rotate.
Thanks to Jeanette Moy for this recipe!