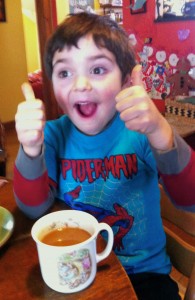 This hot beverage is nutritious and satisfying. The warming spices are great for kids whose digestion could use a little spark. No dairy, maple sweetened and if feels like a total treat. Great for the whole family!
Mix together:
1 cup of India Spice herbal tea (alternatively ginger, cinnamon, herbal chai), HOT
1 t unsweetened cocoa
Stir in:
1 t maple syrup
1/2 cup unsweetened almond milk
Serve it up and watch them smile!
Two thumbs up, actually 10 thumbs up, is the report over here!