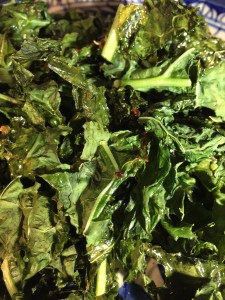 This is my son's favorite way to eat kale. I made this the other day along with Roasted Chicken Legs and Sweet Potatoes Sticks and it made for a very efficient meal!
Kale, any kind, a half a bunch.
Sea salt
Olive oil
Chop kale. Let it sit for 5 or more minutes.
After the chicken and sweet potatoes come out of the over and off the pan, spread the kale on the pan and toss around to gather up the oils.
Sprinkle with sea salt and mix lightly with oils on pan.
Bake on 400 for 12 minutes.
Alternatively, mix kale in bowl with 1-2 tablespoons olive oil and ½ – 1 teaspoon sea salt. Spread on clean cookie sheet and bake for 12 minutes on 400 or until just crispy.