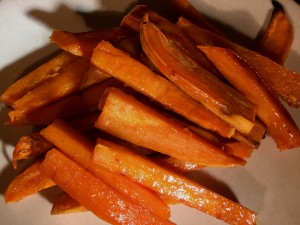 1-2 large sweet potatoes
olive oil
sea salt
Preheat oven to 425 degrees. Cut the sweet potatoes to make long sticks about ¾ inch wide. Place on baking sheet and drizzle lightly with oil. Sprinkle the sticks with sea salt and toss gently.
Bake on 425 for 45 minutes, turning once about 25 minutes in.
These sticks can be baked at the same time, and on the same pan, as the roasted chicken legs. In fact, after the sweet potatoes and chicken come out of the oven, you can use the leftover oil on the pan for the crispy kale chips.