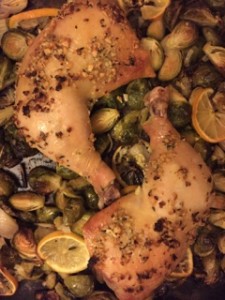 You gotta love the one pan dinner recipes. This is not only quick and healthy, but I think these are the best Brussel sprouts ever! The lemon and the crispiness bring it home.
1 pound Brussels sprouts, trimmed and halved
4 small shallots, quartered
1 lemon, sliced
3 tablespoons olive oil
¾ teaspoon salt
½ teaspoon ground pepper
2 cloves garlic
1 teaspoon dried thyme
4 large or 8 small chicken thighs
Preheat oven to 450 degrees; place rack in lower third.
Toss Brussels sprouts, shallots, and lemon with 2 tablespoons oil and ¼ teaspoon each salt and pepper.
Spread veggie mixture on rimmed baking sheet.
Mash garlic with ½ teaspoon salt and the rest of the oil and spices.
Rub chicken with garlic mixture.
Nestle chicken into Brussels sprouts.
Roast for 20 to 25 minutes. Sprouts should be tender and a meat thermometer should register 165 degrees.