Scrub 6 medium beets. Trim ends, cut into big chunks.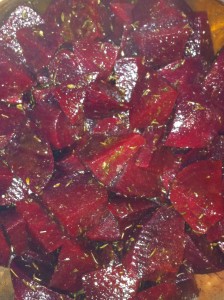 Bring to boil in saucepan with water, simmer for 45 – 60 minutes or until done (test for softness by poking with a knife or fork).  Rinse with cool water.
Peel the outer skin off with your fingers.  Put into a bowl.
Drizzle with:
1 ½ T olive oil
1 ½ T balsamic vinegar
Sprinkle with:
1 t rosemary powder
1 t thyme leaves
½ t salt
pinch black pepper (optional)
Let marinate at room temperature for 30 minutes or more, or overnight in the refrigerator.
Serve at room temperature.