We halve this recipe for our family of 3 because we just can't stop eating it.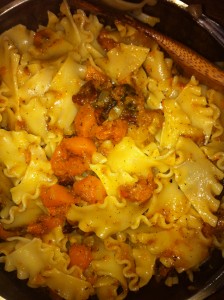 INGREDIENTS
4    slices bacon , halved lengthwise, then cut crosswise into 1/4-inch pieces
8    large fresh sage leaves (optional)
1    medium butternut squash (about 2 pounds), peeled, seeded, and cut into 1/2-inch dice
1    tablespoon unsalted butter
6    scallions , sliced thin  (or substitute 1 small onion, diced)
1/4    teaspoon freshly grated nutmeg
1 T  fresh or dried sage, minced
1    teaspoon sugar
Table salt and ground black pepper
1    cup low-sodium chicken broth
1    pound penne pasta or other pasta such as rombi
2    tablespoons grated Parmesan cheese , plus extra for serving
4    teaspoons juice from 1 lemon
1/3   cup sliced almonds , toasted (optional)
INSTRUCTIONS
1. Cook bacon in 12-inch skillet over medium heat until crisp, about 8 minutes. Add whole sage leaves and cook until fragrant, about 1 minute. Strain mixture through fine-mesh strainer into small bowl, reserving bacon fat and bacon-sage mixture separately.
2. Return skillet to high heat, add 2 tablespoons reserved bacon fat (adding olive oil if necessary) and heat until shimmering. Add squash in even layer and cook, without stirring, until beginning to caramelize, 6 to 8 minutes. Continue cooking, stirring occasionally until spotty brown, 4 to 5 minutes longer. Add butter and allow to melt, about 30 seconds. Add scallions, nutmeg, sugar, 1/2 teaspoon salt, 3/4 teaspoon pepper, and minced sage; cook, stirring occasionally, until scallions are softened, about 3 minutes. Add broth and bring to simmer; continue to cook until squash is tender, 1 to 3 minutes longer.
3. Meanwhile, bring 4 quarts water to boil in large Dutch oven over high heat. Add 1 tablespoon salt and pasta. Cook until just al dente, then drain pasta, reserving 1/2 cup cooking water, and transfer back to Dutch oven.
4. Add squash mixture to pasta; stir in 2 tablespoons Parmesan cheese, lemon juice, and reserved bacon-sage mixture, adjusting consistency with reserved pasta liquid. Serve, passing almonds and Parmesan separately.
Serves 4 to 6.
Cook's Illustrated January 1, 2009.