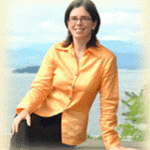 Kelly Kaeding, MS, LAc has been practicing acupuncture since 1994. She holds a Vermont state license and is nationally board certified in acupuncture. She studied nutrition as an undergraduate and earned a Masters of Science degree in Acupuncture at Bastyr University in Seattle. Kelly is certified in Zero Balancing.

Kelly spent five years living and practicing in Vietnam. She traveled throughout Asia, studying acupuncture and Qi Gong in China and Thai bodywork in Thailand. During this time, she developed a deep understanding of the Chinese health paradigm and the intimate relationship it maintains with nutrition and lifestyle. (The photographs at the top of each page are from Kelly's travels. To the right is Dr. Li, whom Kelly studied with in Cheng Du, China.)
As a practitioner of Eastern Medicine, Kelly Kaeding helps people with their health concerns and their well-being. She offers clients a range of resources for healing, which includes acupuncture, classical Chinese herbal medicine, Zero Balancing and nutrition.
Kelly Kaeding, MS, LAc works with you to discover your constitution and the patterns that explain your constellation of symptoms. Through observation, palpation, and listening, she will assess your system and create a customized health plan for you with information about dietary and lifestyle choices.
Kelly is known for her gentle acupuncture style and relaxing Zero Balancing sessions.