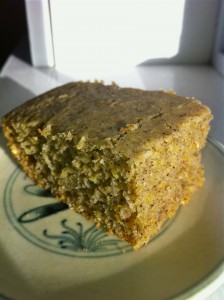 I have not had the best luck with cornbread recipes in the past. I decided to try one last night and I modified it to make it gluten-free and dairy-free. It turned out to be super delicious and very easy. We were so happy with this one that there is hardly any left, less than 24 hours later.
1 egg
3/4 cup almond milk (or any milk)
2 T maple syrup
2/3 cup cornmeal (Butterworks from the bulk department at City Market is the best)
2/3 cup buckwheat flour
1 T baking powder
1/2 t salt
14 cup olive oil
Mix it all up, pour into 8×8 pan (not greased) and bake for about 20 minutes, until knife comes out clean.