1 cup of quinoa cooked in 2 cups of water.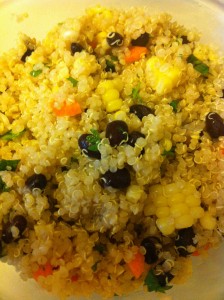 Bring to low boil then turn down to low for 20 minutes.
2 ears corn, cooked and cut off the cob
1 or 2 carrots, diced
1 bunch scallions, sliced
1 cup cilantro or parsley, chopped
1-2 cups black beans, rinsed
1-2 limes, juiced
1/3 cup olive oil
1 t salt (or to taste)
Combine and serve!