When I asked my son what he wanted me to make for a little tea party we were having, he said "really, really, really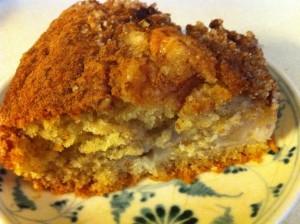 good apple cake." I said ok, and here it is.
I found this recipe to be very quick – I just threw everything into the mixer bowl, one by one. It is also quite forgiving. I forgot to add the apples to the batter and instead put them on top of the batter once it was in the pan. I only had ¼ cup of nuts for the topping instead of ¾ and I also forgot to put the cinnamon in the topping, and sprinkled it on top instead. No one had a clue how scatterbrained I was that morning – they just wanted the recipe.
Take the butter, yoghurt and egg out in advance to soften. Adjust oven rack to the middle position and heat the oven to 350 degrees. Generously butter the bottom and sides of a 10 –inch spring form pan.
First prep the apples and let cool.
Sauté in
1 T butter,
2 large apples, peeled and chopped into ¼ inch dice. (I did this the night before).
Sprinkle the bottom of the pan with:
breadcrumbs, flour or cornmeal, shaking light to coat, tap out excess.
Whisk in a large mixing bowl until blended:
2 cups unbleached all-purpose flour
1 cup plus 2 T granulated sugar
1t salt
Add to flour mix:
10 T unsalted butter, softened but still cool, cut into pieces and then cut in a little with a pastry cutter or two knives. Then blend with your mixer until the mixture resembles coarse crumbs. Remove 1 cup of this mixture and save for topping.
Whisk into the flour mixture in the mixing bowl:
1 t baking powder
½ t baking soda
1 t cinnamon
Then add:
¾ cup plain yoghurt (not low fat) or buttermilk at room temperature
1 egg, room temperature
1 t vanilla extract
Whisk vigorously until the batter is thick, smooth, fluffy, and frosting-like, about 2 minutes.
Fold sautéed apples into batter. Scrape the batter into the prepared pan and smooth the top.
Add to reserved crumbs of flour, sugar, and butter:
¾ cup walnuts or pecans, chopped fine
½ cup dark brown sugar, packed
2 t cinnamon
Toss with fork or your fingers until blended. Sprinkle the crumbs over the batter, pressing lightly so that they adhere.
Bake the cake until the center is firm and a cake tester comes out clean, 50-55 minutes. Transfer cake to wire rack; remove the sides of the pan. Let the cake cool completely, about 2 hours, before serving.  When completely cool, the cake can be slid off the pan bottom onto a serving plate.
Enjoy. We sure did!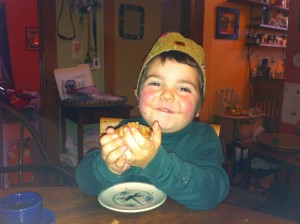 This is the Apple-Cinnamon variation of the Old-Fashioned Crumb Coffeecake from Cook's Illustrated.