Our new family favorite – decidedly kid-friendly.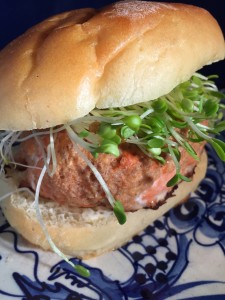 Two 6 ounce wild salmon fillets (or 1- 14 ¾ ounce can of wild salmon or 2 small cans)
1 T mustard (Dijon or stone brown)
1 T mayonnaise
1 T lemon juice
½ t grated lemon zest
2 scallions, chopped
½ t sea salt
1 egg
½ cup bread crumbs, panko, or ground spelt crackers (cooked quinoa or ground dry oats may also work here)
Sprouts, arugula or baby lettuce
Tartar sauce:
3 T mayonnaise
1 T relish
Olive oil for the pan
4 Challah or Brioche buns
Preheat oven to 400 F.
Use a knife to separate the skin from the salmon.
Chop or pull into ¼ inch pieces.
Put three quarters of the salmon into a large mixing bowl.
Put the rest of the salmon in a food processor (I use a small one and it is perfect).
Put the mustard, mayonnaise, lemon juice, lemon zest, scallions and sea salt in the food processor and pulse to make a paste.
Combine contents of the food processor with the salmon in the large bowl.
Add ½ cup bread crumbs and egg and mix.
Brush olive oil on baking sheet, cast iron or pyrex pan.
Divide salmon mixture into four parts and pat into a 1 inch thick burger shape and put on oiled pan.  Toss it in the oven.
Bake on 400 for 15-20 minutes and the patties feel springy in the center.
Prepare tartar sauce (or just use mayo and some pickles or lacto-fermented veggies).
Assemble burgers – tartar sauce on bun, salmon burger, and topped with sprouts or greens. Let's eat!