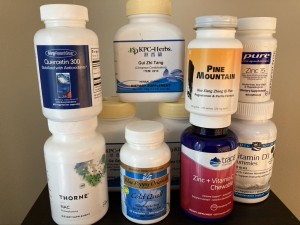 Tomorrow until September 14, I'm offering 20% off on all supplements in my Fullscript dispensary. You will have access to the whole catalog, and you can check out my Favorites.
Fullscript ships fast, stocks professional-grade trusted products, and ensures your supplements are safe and effective. Make sure you sign up for your free account to shop the sale!
Last fall I wrote all about supplements that are great to have on hand during the fall and winter. Check out Cold Season Medicine Cabinet. Many of these supplements I mention are available through Fullscript but the Chinese herbs are limited – for most herbs you can contact me. You can check out my Favorites – including Cold Season Medicine Cabinet – which has multiple versions of many of the supplements, such as vitamin C, D, zinc, NAC, and Quercetin. You'll even see Cinnamon Twig formula there! With 20% off, now is a great time to stock up on your immune boosting supplements.
You can check out my other Favorites, such as Gut Health, where you will see my favorite high quality spore-based probiotic – Microbiome Lab's MegaSporeBiotic (which includes 5 strains including HU28) – and also HU28 (which only contains 1). For most people who want a probiotic, MegaSporeBiotic is a good place to start, but for people with more serious gut issues, starting with HU28 is recommended.
I offer 10% off of the whole Fullscript catalog for all of my patients everyday, but for the next two days during the September Supplement Sale, September 13-14, everything is 20% off.