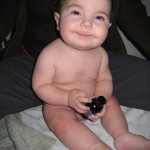 Friday, October 17
10:00– 11:30 am
3:00 – 4:30 pm
Shonishin is an energy-balancing treatment designed for babies and kids. We use special tools to brush and tap the skin, which strengthens constitution and alleviates a number of childhood conditions (digestive issues, skin rash, enhance immune system, etc.).
This is a walk-in clinic. In October, we're adding morning hours 10:00-11:30 to our usual afternoon hours 3:00-4:30. Sessions last about 15 minutes. We encourage a donation of $5 – $25. Please RSVP.
Shonishin also available by appointment.
Children respond quickly to subtle treatments. Taken monthly, they can make a big difference in the health of a child. We recommend weekly treatment for children with specific health concerns.
The last two Full-Moon Friday Shonishin Clinics in 2014:
Friday, November 14  and  Friday, December 12