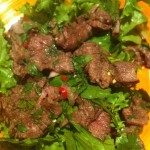 Make the first part of this salad the night before – when it marinates overnight the beef will absorb the flavors and 'cook' in the lime juice.
Marinate:
½ pound grilled rare grass-fed beef, preferably fillet mignon, thinly sliced
1 stalk lemongrass, minced (use white part only) *
2 shallots, thinly sliced
2 cloves garlic, minced
1 Thai red chili pepper, minced
1 t honey or sugar
1 T fish sauce
juice of 1 lime
Mix in:
A handful of cilantro and/or mint, chopped
Serve over a bed of lettuce, washed and patted dry.
* I use one of two methods to mince lemongrass. For both, smash lemongrass with handle edge of knife. Then very thinly slice lemongrass into rounds. Either mince it carefully with a knife or grind in a spice grinder (I have a coffee grinder designated for spices and it works great!).