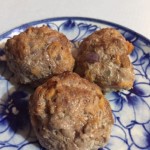 These meatballs are sooo much better than the turkey meatballs I made last week, which I over-cooked because I was following a recipe that said to use a meat thermometer to check the inside temperature, but it didn't work and I cooked them too long. I suggest when you think they might be done, take one out and cut it in half to see if it is done on the inside.
I created this recipe because I wanted a meatball recipe that would be Whole 30 compliant and super tasty, and it is! It's also super easy.
The other reason I made it was because I had a half pound of beef thawed, a pound of veal in my freezer that I didn't have any idea what to do with – and then I bought some lamb at Healthy Living, which they sell in half pound packages, which is perfect cuz it's pricey. I found the perfect trifecta of meats (but since I don't usually stock veal, I'd use pork, turkey, chicken or venison in it's place).
1 ½ pounds of any combo of ground meat – I used a half pound each of beef, lamb and veal
½ medium onion (red, white, shallots or scallions), finely minced
1 medium carrot, grated
1-2 cloves garlic, minced
1 T Italian seasoning (or do a mix or oregano, thyme, rosemary, celery seed, etc)
1 t Dijon mustard
1 T tomato paste
¾ t sea salt
¼ t pepper
1 egg
¼ cup broth (chicken, beef, whatever)
½ t gelatin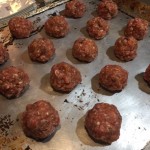 Mix it all together – I used a potato smasher.
Make in advance and store in the fridge. When you are ready to cook them, preheat oven to 400.
Use your hands to make balls about 2 inches big, or bigger if you like, and place them on a cookie sheet. No need for oiling the pan.
Bake for about 15 minutes for 2 inch balls – longer for bigger ones.
The gelatin-broth combo is key for this recipe – it makes them nice and juicy and I think they will be less likely to dry out. That said, try not to over-cook them.