This recipe accompanies Vietnamese Chicken and Rice Soup.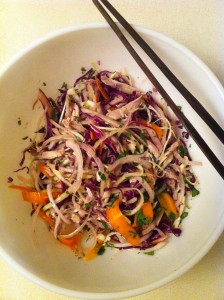 Instead of putting all of the chicken into the soup (below), save half of it for the salad.
Combine in a small bowl to make sauce:
2 T fish sauce
juice of one lime
1 t honey
2 chilies, smashed or chopped
1 clove garlic, smashed chopped
(or replace the chilies and garlic with Sriracha chili garlic sauce)
you may add a splash of warm water to dilute or stretch out the sauce
let sit while you chop the veg
Combine in a large bowl:
½ head of cabbage, very finely sliced (mix green and red if you have both)
1 onion, very finely sliced
1 carrot, shaved with peeler
½ bunch of cilantro leaf, washed and chopped
Add pulled chicken.  see Vietnamese Chicken and Rice Soup
Mix up the veg and chicken and then strain and pour the sauce on. Mix it some more.  Let it sit at room temperature for 30 minutes before serving, or put it in the fridge, covered, and wait till tomorrow to serve when it's good and marinated and the cabbage nice and soft.
Serve with chopsticks along side the Rice and Chicken Soup.