Every year around this time of year I start thinking about a cleanse. I've tried cleansing in February or March in Vermont. Each time I felt very, very cold and craved cooked foods and ginger. I have done the Clean program several times in the hottest time of the year and felt great.
I often recommend making a broth with beef bones or chicken legs, then making a vegetable soup with ginger and blending it. I prefer this warm pureed soup to fruit smoothies in the winter and early spring.
I am so excited to see what is happening at All Wellness and wanted to share it with you.

at All Wellness 128 Lakeside Ave in Burlington
Winter is not typically the best time to cleanse from an Ayurvedic standpoint – it is difficult on digestion and eating cold foods can be unpleasant when your outside environment is cold, too.  For this reason, All Wellness has only run spring and summer cleanses.  In an effort to change this, Laura contacted The Clean Team and posed the question, "How can I modify the cleanse to be warm so my clients can detox comfortably in the winter?"  And of course, The Clean Team pulled though!
Join the first Warm Winter Cleanse at All Wellness with Health & Nutrition Coach, Laura M. Savard. The cleanse is based on the best selling book, Clean: The Revolutionary Program to Restore the Body's Natural Ability to Heal Itself, by Dr. Alejandro Junger.  As far as cleanses go, this is as good as it gets – it's simple and designed for the average person.  No starving, no strange foods, no expensive supplements – all you'll need is a juicer, a blender, and a copy of the book. Learn skills you'll use for a lifetime and experience amazing changes in your body and your relationship with food.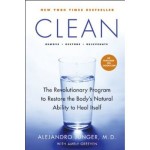 Be guided through the cleansing process
Feed off the support and energy of the group
Learn about whole foods
Leave with more recipes than the book gives you
Taste food samples
Go home with free samples of things Laura loves
And most importantly… FEEL BETTER!
Choose the cleanse package that works for you:
Option #1 – Group Cleanse  $125
Attend 3 in person meetings and 1 virtual meeting
Get all the materials you need to be successful in a binder full of information, recipes, and food samples
Receive 2 meals provided by EcoBean & Juice, Burlington's newest organic juice bar, plus $10 in EcoBean dollars to use during your cleanse
Take home other discounts for cleanse-related services provided by other local business'
Option #2 – Group Cleanse & Wellness Package $225, get all the benefits of the group cleanse plus:
5 drop-in fitness classes at All Wellness (value $70) – check out our schedule
60 minute therapeutic massage with All Wellness' massage therapist Karla Henning (value $65)