Bengali Masar Dal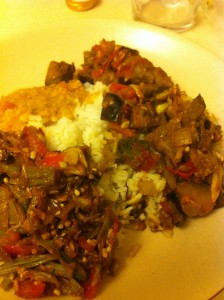 This is my favorite dal recipe, from my favorite Indian cookbook.
Pictured also: Okra Braised with Tomatoes, Onions and Spices and Indian Spiced Braised Eggplant
1 ½ cups red lentils (masar dal)
4 ½ cups water
3-6 hot green chilies (optional – serve minced chilies on the side if you like)
½ t turmeric
1 ½ t sea salt
Wash and pick the lentils and cook with green chilies, turmeric, salt and water.
Bring to boil, stir occasionally to avoid lumps. Reduce to medium, partially covered for 25-30 minutes.
for flavoring the dal
While cooking the lentils, heat over medium-high:
2 T ghee, or good quality light vegetable oil
Add:
1 cup onion, minced
Sauté until golden brown (about 10 minutes), then add:
1 medium tomato, chopped
Continue frying until the tomatoes are cooked (about 5-8 minutes), stirring often. 30 seconds before turning off the heat, add:
1 T ginger, minced
Add to lentils, stirring to combine. Continue to simmer lentils. Meanwhile, make spiced butter.
for the spice-perfumed butter
Heat over medium-high:
2 T ghee, or good quality light vegetable oil
Add:
1 T panch phoron mix, equal parts of *
Cumin seed
                       Fennel
                       Mustard
                       Fenugreek
                       Black onion seed
When onion seeds start splattering and cumin gets dark about 15 seconds), add:
4 bay leaves
4 dry red chili pods
Continue cooking until the chili turns dark (about 15 seconds), stirring continuously. Add:
2 t garlic, minced
Turn off the heat and when the garlic turns golden (about 20 seconds), add to the lentils. Mix and serve (the lentils are probably done by now).
*If you don't have all of these seeds, just use what you have this time and get the others at an Indian or Asian market for next time.
I like to grind the spices of the panch phoron mix, but they are usually used whole.
Adapted from Classic Indian Vegetarian and Grain Cooking by Julie Sahni