Khatti Bhaji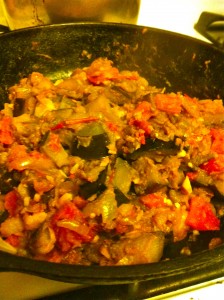 Whenever I get eggplant I think about making this dish. If I also have okra, my friends and family are in for an Indian delight. Nothing makes Indian food better than fresh vegetables and good quality oil.

1 medium eggplant, chopped into 1/2 inch cubes and then soaked for 15 minutes or more in water with salt. Strain in colander.
Heat large cast iron pan on medium-high and add:
2 T sesame oil or other good quality vegetable oil
When oil is quite warm add:
2 medium onions, thinly sliced
Sauté until translucent (or nearly so).
Add eggplant and continue to sauté, stirring every 3-4 minutes. Do not stir too frequently – give time for each side of the eggplant cubes to cook.
After about 8-10 minutes, when eggplant has softened, add:
2-3 chilies (optional)
3 cloves garlic, chopped
½ t turmeric, ground
1 t cumin, ground
½ t coriander, ground
½  t cayenne pepper (optional)
½ t mango powder (optional)
1/8 asafetida, ground (optional)
and stir.
After another few minutes, add:
1 large tomato, chopped
1 T ginger, minced
1 ½ t sea salt, or to taste
When the juices of the tomato have cooked off, test eggplant with knife – when soft all the way through, it is done. If it is still a little hard in the center of the bigger pieces, give it a little more time.
Serve on basmati rice, with Marsala Bhindi (Okra) and Dal.
Adapted from Classic Indian Vegetarian and Grain Cooking by Julie Sahni