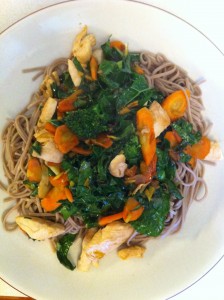 Super quick and satisfying
2 t coconut oil
3 carrots, thinly sliced on diagonal
1 broccoli crown, cut into bite sized pieces
3 cloves garlic, minced
1 chicken breast, sliced thin on diagonal
½ bunch kale, deviened and chopped
1 T ginger, minced
2 t tamari
Buckwheat noodles, 1 package serves four.
Get water boiling for the noodles. Cook as directed on package (about 5 minutes).
Meanwhile, heat the coconut oil in a pan and add carrots. After 1-2 minutes add broccoli, garlic and chicken. When the chicken is mostly done, add kale. Cook until kale is wilted. Finally, add ginger, a tiny splash of water and tamari. Cook for 1 minute more.
adapted from A. Junger's Clean: The Revolutionary Program to Restore the Body's Natural Ability to Heal Itself