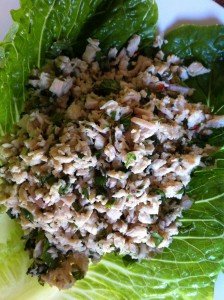 This is my favorite Laos dish. It can be served with sticky rice and hand pounded chili paste or simply with lettuce.
1 pound chicken breast or tenders
2 t vegetable oil
2 T white sticky rice powder (toasted and ground)
1 lemongrass, finely minced
¼ cup green onion, chopped
¼ cup mint, finely chopped
1/2 cup thai basil, finely chopped
3 T cilantro, finely chopped
2 Thai chilies, finely chopped
2 cloves garlic. minced
3 shallots, minced
Juice of 1 lime (or more)
2 t salt
2 t fish sauce
1 head lettuce
Toast sticky rice in oven or in cast iron pan on stove top. Grind with mortar and pestle or in coffee grinder (dedicated to spices).
Heat oil on stovetop, cook chicken and then mince finely.
Prepare lemongrass by finely slicing and mincing with knife or by chopping and grinding in coffee grinder.
Prepare the rest of the ingredients. Mix everything together in a large bowl.
Serve with lettuce. Rip pieces of lettuce and use to scoop up laap.
Enjoy!