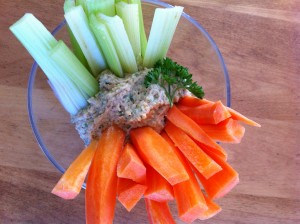 1 ½ cups chickpeas, cooked.
¼ cup tahini
Juice of 1 lemon
½ t cumin
½ t sea salt
3 garlic cloves
2 T oil
¼ cup filtered water
Throw it all in a blender or food processor and voila! Add more oil and/or water if too thick.
Garnish with olive oil and paprika.
Serve with vegetable sticks or slices: carrots, celery, cukes, radish and/or diakon.
Hummus variation
Instead of tahini, use almond butter.
Use parsley instead of or in addition to cumin.
This variation is shown in the photo above.
YUM!
adapted from A. Junger's Clean: The Revolutionary Program to Restore the Body's Natural Ability to Heal Itself