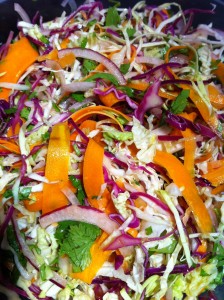 Healthy and delicious – my favorite combination.
So many people have asked me for this slaw recipe. In this slaw, the key is to steam the cabbage and carrots a little bit, which doesn't change the texture or flavor much compared with a raw cabbage salad, but increases the health benefits.
Eating raw cruciferous vegetables, such as cabbage, in large amounts can suppress thyroid function. Also, the anti-oxidant properties of carrots are stronger when cooked. Cabbage and carrots are both great cancer preventing foods.
Another tip is to let the cabbage sit for 5-10 minutes after chopping and before cooking to enhance its health-promoting qualities.
read about cruciferous cooking tips
Make a big batch and eat some every day. It keeps well for about a week.
6 or so cups cabbage – two or three different kinds of cabbage if available – finely chopped, grated, or sliced with a mandolin
2 or so carrots, grated or peeled to make ribbons.
Steam for a couple minutes, until warm.
½ red onion, finely chopped (optional)
half bunch cilantro, chopped (alternatively, use parsley)
1/2 – 1 t sea salt
2 t – 1 T olive oil
2 t – 1 T apple cider vinegar (with the mother)
Combine and serve. This will keep well in the fridge for 5 or more days.
Modifications:
or
1 t thyme leaves, crushed with your fingers
Want more cabbage recipes? Here you go.
Indonesian Greens in Peanut Oil with Garlic
Red Cabbage with Apples & Raisins
Vietnamese Chicken and Cabbage Salad (Ga Xe Phai)
You can also use the steaming idea in the Vietnamese Chicken and Cabbage Salad above. That one can be made without chicken for a simple Asian slaw. I have to say, though it really kicks butt with the chicken. It's also traditionally served with rice soup.